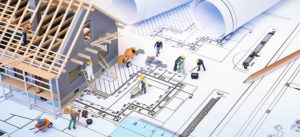 When I began drawing construction plans for clients in Maine 25 years ago, building inspectors in most of Maine did not pay a lot of attention to details, and often, didn't ask to see any plans, not even for entire homes. When they did, builders could scribble something on letter paper, or even pretend they know how to plan using a cheap CAD system, and get a permit based upon the certifications of the sub-contractors, rather than based upon a smart design and construction plan. As a result, a lot of pretty stupidly planned and poorly constructed homes decorate a lot of the state of Maine.
A lot of people don't like having to work a little or pay a little to get a permit to build. They look at it like over-regulation, or asking Daddy for permission. Those same people generally don't have the ability to tell the difference between a bad idea and good one when it comes to design or construction. They should be happy that someone is involved who is trying to protect one of the largest investments anyone ever makes…home construction.
Building inspectors are not your enemies. Building codes are written to help protect you. They are concerned with safety and preservation of value through proper construction. Good builders have terrific skills, but usually almost no training in design and not enough in engineering. They know how to follow a plan, mostly, but planners and architects have gone through training aimed at smart design and proper engineering and following building codes.
Registered architects can be expensive. That is because there are not many registered architects in Maine, they are very busy with large projects, and they don't fool around with clients who resent having to call them in the first place. But planning is important. When you let someone draw a plan for you, you will find ways to improve your design, and the plan will help the builder achieve his goal smoothly and quickly. This will save you time and money, often saving you more money than you spent on the plans. Furthermore, you need a plan to get a permit.
The word is out that building inspectors in Maine are much more picky and diligent this year. If you want to build something, you will need a proper plan to get a permit in most regions of Maine. The good news is that you don't have to hire an expensive architect for every little job. PencilJazz, Mark Saintonge, worked under architects for 10 years and has been designing small homes and remodels for 30 years. I always get the permit, but my fees are lower than the average architect. Give me a call and let's talk about your dreams. I can help.